> Home > What to visit > Churches and Monasteries
Monastero della Santissima Trinità e Santa Mustiola a Torri
Sovicille
CHURCHES AND MONASTERIES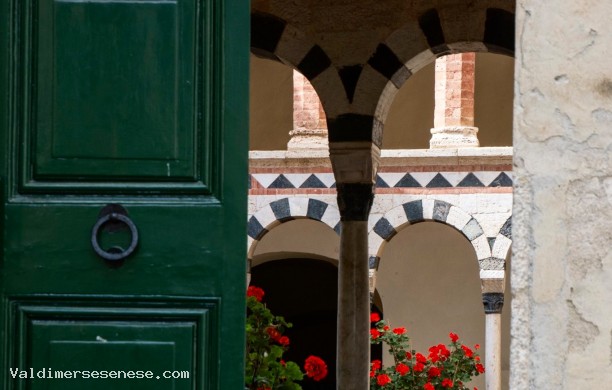 PHONE NUMBERS AND TIMES

Monastero della Santissima Trinità e Santa Mustiola a Torri
Piazza del Vescovado, 1 53018 Sovicille

Telephone 0577 345044


Business card (vCard)
The existence of the monastery has been remembered since 1070. Its church was renovated in the 13th century, preserving the single-nave structure with a wooden roof. Gothic-style features are visible on the southern side, where there is a beautiful portal with a pointed arch and a richly carved lintel.
Of great interest is the cloister, the only one in Tuscany to have preserved the Romanesque features intact, despite the construction of two higher orders, respectively in the 14th and 15th centuries.
The original Romanesque part is articulated on eleven arches on each side, supported by slender columns that support capitals richly carved with plant motifs, above which there are hanger pulvini decorated with geometric motifs and intertwined ribbons; all in the name of an elegant trichrome, made with white, pink and black stone materials.
In the church are still preserved: the Romanesque high altar in stone and a panel by Luca di Tommè depicting the Madonna and Child.
STAY

NEARBY
DINING & ENTERTAINMENT

NEARBY