> Home > What to visit > Churches and Monasteries
Pieve di San Giusto e Clemente a Balli
Sovicille
CHURCHES AND MONASTERIES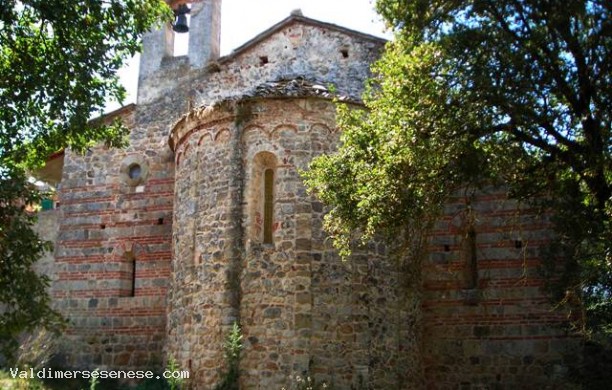 PHONE NUMBERS AND TIMES

Pieve di San Giusto e Clemente a Balli
Loc. San Giusto a Balli 53018 Sovicille

Telephone 0577 314042


Business card (vCard)
And 'one of the oldest churches in the diocese of Volterra placed on the eastern slopes of the Montagnuola on the right side of the river Serpenna tributary of the river Merse.

Mention is made of this church of San Giusto in a judgment given by the Countess Matilda Feb. 2. 1078, in favor of the church Volterra, which confirmed the rights and property belonging to the churches of Molli, of Pernina and S.Giusto the villa of Personata, where there was a chapel branch.

In fact, in the vicinity of San Giusto there is still a place of Personata, where there is a house with chapel of octagonal shape of their lords Finetti of Siena, as well as the nickname exists always S.Margherita Personata, to a more antiquated church, now reduced to the use of a farm hut at ononimo.

The parish church of St. Just to Dance is all stone, originally to 3 aisles, long br. 25, and a large br. 17, with grandstand and three altars, two arches on each side in the sixth round, four windows in the nave high and narrow, formed conch tipoi slot, insomuch that the more light comes in through the open window above the front door recently.

Originally the church had three aisles, except that a priest more gothic than that fabbricarono, towards the end of the seventeenth century, when he closed the nave to reduce it to wine cellar.

The parish church of St. Just to Dance in the first centuries after the tenth century had, as mentioned above, for the church of Santa Margherita branch of Personata, which was also present in 1356, and the parish of S.Bartolommeo to Ancajano placed on the back Montagnola.

The latter having been devastated in 1554 by the Austro-Hispanic, was annexed to the parish church of San Giusto, until the Pope Alexander VII had it rebuilt in 1662 with architecture very similar to that of the church of Provenzano of Siena.
STAY

NEARBY
DINING & ENTERTAINMENT

NEARBY